The perfect easy spring salad that everyone would love! This recipe is a simple combination of hard-boiled eggs and cooked asparagus, seasoned with extra virgin olive oil and balsamic vinegar.
Jump to:
Why is this recipe so good
Asparagus are a wonderful vegetable and they go really well with eggs. In fact my favourite way of eating them is in that salad! It allows you to fully emerge in their taste, without it being overwhelmed by other foods.
Last but not least, this is a very healthy recipe, especially if you steam your asparagus.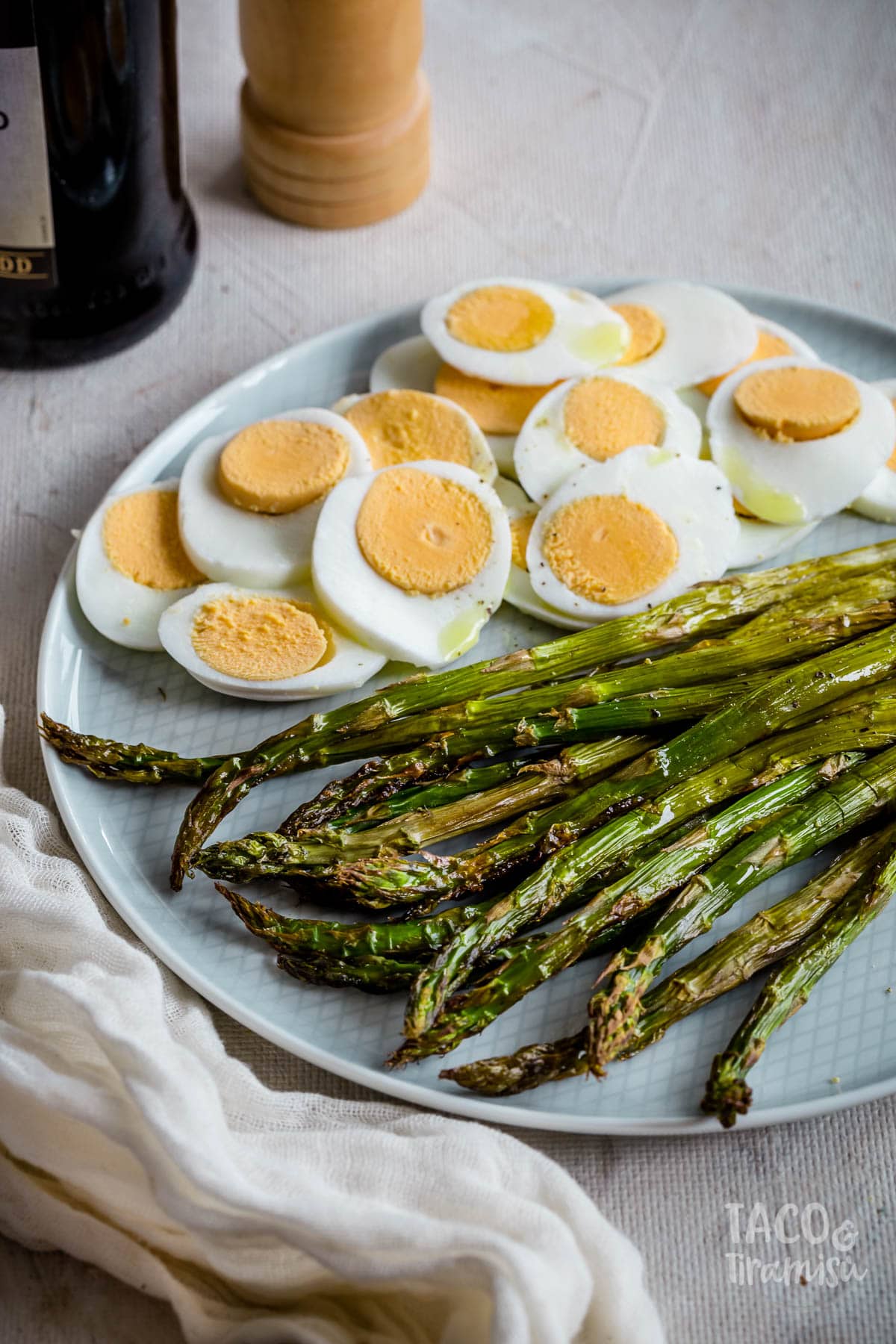 Where is this recipe from
This simple and delicious salad is a family speciality which I know from my better half. It is a recipe popular in Northern Italy. The great thing about it is its simplicity and the possibility to make variations, according to your taste preferences.
Preparation
The preparation is very simple: you need to cook your asparagus (which means: boil, steam, roast or grill) and combine them with chopped or sliced hard boiled eggs. Add olive oil and vinegar and enjoy with a slice of rustic bread!
Variations
The original Italian way to make this recipe is with boiled asparagus. I have tried it also with roasted and find it equally nice. However if you want to keep as much as possible the healthy nutrients of the vegetables, you should steam them.
I like using balsamic vinegar for this recipe but practically any kind works.
Cooking tips
The best way to boil asparagus is by placing them vertically in a pot full of boiling water. Make sure the tips say above the water: you may need a tall and narrow pan. Cook for about 7 minutes.
If you don't have an appropriate pan to boil them this way, alternatively you can chop them into 3 equally long pieces. First place in the boiling water only the bottom parts and cook for 3 minutes. Add the middle parts and cook for another 3 minutes. Lastly add the tops and cook for extra one minute before taking the asparagus out of the water.
To roast them you simply need to clean the bottoms and then arrange them on a pan lined with a sheet of parchment paper. Brush or sprinkle the vegetables with olive oil. Cook for about 20 minutes or until the asparagus are tender when you touch them with a fork.
Did you like this recipe? Let me know in the comments what you think about it!
If you like the blog, subscribe to receive new recipes every week!
Follow Taco and Tiramisu on Instagram and Facebook to get fresh updates and authentic recipes from around the world!
Print Recipe
Asparagus and Boiled Eggs Salad
Ingredients
1 lb / 450 g

green asparagus

trimmed and cleaned

6

hard boiled eggs

peeled

2

tablespoon

olive oil

extra virgin

2

tablespoon

balsamic vinegar or other

salt to taste

pepper to taste

optional
Instructions
Boil, steam or roast the asparagus (see notes). Slice or chop the hard boiled eggs.

Arrange the asparagus in a plate with the eggs. Season with olive oil, vinegar, salt and pepper.
Notes
To boil the asparagus: Place them vertically in a narrow pot filled with lightly salted boiling water. The tips should be out of the water. Cook for 7 minutes or until the bottoms are tender.
To roast: Place the asparagus on a pan lined with parchment paper. Make sure they don't overlap. Sprinkle with olive oil. Bake for 20 minutes at 350º F/ 180º C or until tender when touching with a fork.
You may also like the following recipes:
Food Blogger, Photographer and Cookbook Author. Founder of the sites Dani's Cookings and Taco & Tiramisu.