Easy potatoes stuffed with delicious cheese and topped with butter: this is one of the tastiest lunches you can make at home from scratch. Read on to find out how to make these quick stuffed potatoes at home. And the best is that for this recipe you can use exactly the cheese you like!
Jump to:
What kind of recipe is this
I discovered this Cheese Stuffed Potatoes in one old cookbook with traditional Bulgarian recipes. I found this dish very intriguing as it is quick, easy and is already divided in individual portions. I adapted it a bit by changing some of the ingredients and their quantities. The original recipe contained tomato in the filling, which I decided to skip. Still I will give you below also the option with fresh tomatoes.
Why is this recipe good
I love the simplicity of this recipe. No advance cooking is required, neither any special tools and ingredients. The potatoes are carved easily with a teaspoon and then stuffed. And white the original recipe requires the peels to be removed, you can potentially leave them on if you prefer.
This recipe is incredibly versatile: you can choose different kind of cheeses, depending on what you like. Originally the recipe calls for Bulgarian white cheese (sirene) but you can use feta, which is very similar, or ricotta. If you are adventurous, you can try with other kinds of cheese: just keep in mind that the taste of the dish will be different.
Serving suggestions
This recipe is great as a starter, light lunch or dinner. It can be served also as a side dish with meat, fish, soup or salad. In fact Cheese Stuffed Potatoes go well with everything!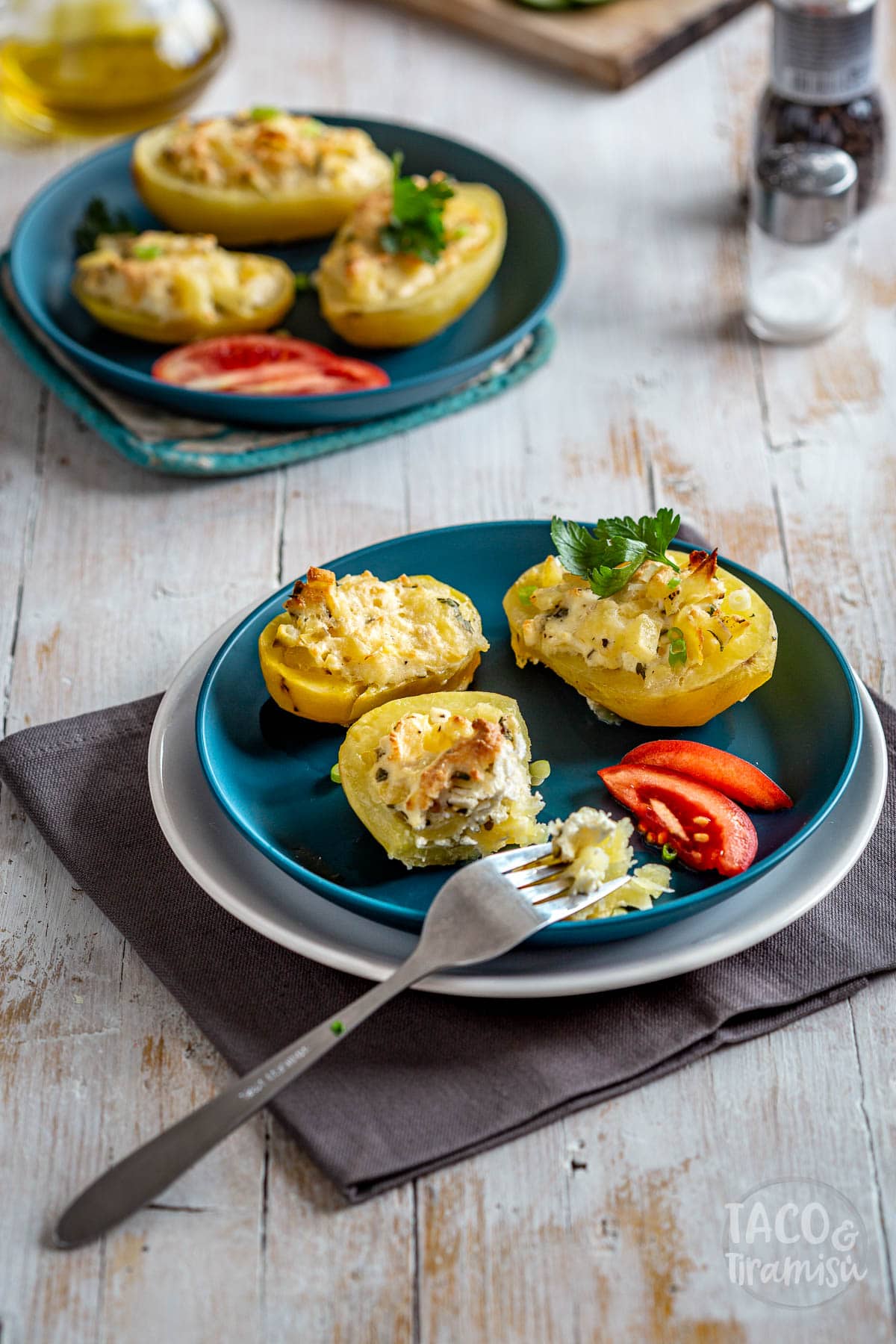 I am sure you will enjoy this simple potato recipe. If you liked it, please share it in social media so other people can benefit from it as well!
📖 Recipe
Print Recipe
Cheese Stuffed Potatoes
Ingredients
12

medium potatoes

2,5 cups/ 400 g

feta cheese

crumbled (or ricotta, or cottage cheese)

2 cup/ 60 g

eggs

1/4

butter

2

tbsp

chopped parsley

1

cup

hot water

+ 1 teaspoon salt

salt and pepper to taste

see notes

olive oil to grease the pans

1-2

fresh tomatoes

optional

spring onions

optional
Instructions
Peel the potatoes, halve them and carve them with a teaspoon so that they become hollow in the middle. Season with salt the carved potato halves.

Chop finely the potato pieces that have been removed and set aside to use in the filling.

In a bowl combine crumbled cheese, eggs, parsley, the carved parts of the potatoes, spring onions and the peeled and finely chopped tomatoes (the last two are totally optional). Add salt and pepper as needed and mix very well until all ingredients are combined.

Stuff each potato with the filling. Press well with a teaspoon to make sure all stuffing fits inside. Pile more stuffing on top of the potato halves.

Preheat oven to 360 degrees F/ 200 degrees C

Arrange the stuffed potatoes in one large or two small pans, greased with olive oil. Add the water mixed with salt: the water should not reach the filling, just the potatoes. Place a piece of butter on top of each stuffed potato.

Bake for 25 minutes or until the potatoes are tender when touched with a fork and the filling becomes golden brown.

Serve immediately.
Notes
If the cheese is salty (feta, Bulgarian sirene), you don't need to add salt to the filling. Just make sure you season the potatoes before filling them and there is salt in the water.
These potatoes should be consumed immediately. You can keep the leftovers refrigerated and reheat them in the oven or in a microwave but they won't be as tasty. If reheating, make sure they reach high temperature to avoid unpleasant potato taste.
Food Blogger, Photographer and Cookbook Author. Founder of the sites Dani's Cookings and Taco & Tiramisu.