One of the most loved Italian desserts is panna Cotta: a delicious pudding made with cream and gelatine sheets or powder. It is light, tasty and most importantly easy to make. You too can prepare at home a classic panna cotta by following this simple recipe!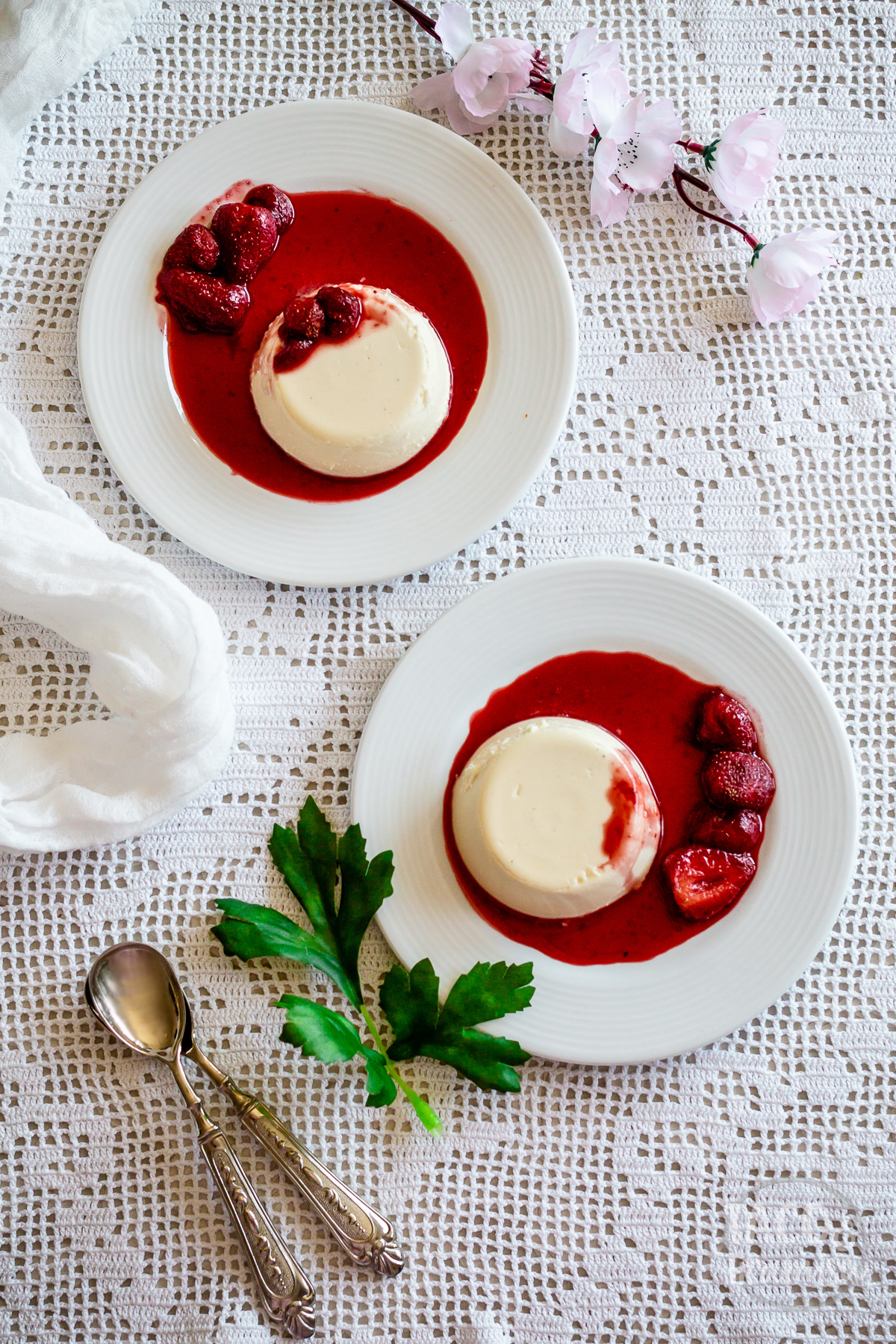 Jump to:
What is Panna Cotta
The literal translation of panna cotta from Italian is "cooked cream". That more or less explains how it is made: the cream is heated and gelatine is dissolved inside in order to thicken it. The best panna cotta recipes make a dessert with a pleasant creamy consistency but thick enough to eat with a spoon.
Panna Cotta is very popular dessert nowadays, not only in Italy but all around the world. The great thing about it is that you can flavour it with almost anything you want: from vanilla and chocolate to caramel, fruits and spices. This is the perfect recipe for the moments when you need a quick but elegant and tasty dessert.
What do you need for this recipe
You need cream, sugar, gelatine and vanilla as a start. From here the options are endless but I will give you some hints how to make your panna cotta really good.
The classic Italian recipe uses just heavy cream and a bit of water or milk to dissolve the gelatine. There are also recipes with equal quantities of cream and milk, which make a lighter dessert. Practically you can use any cream, no matter its fat content. You can even make it with just milk. However the classic panna cotta has its unique richness due to the heavy cream, so it's worth using it.
Last but not least, you will need to flavour your panna cotta. Traditionally it is flavoured with vanilla, rum and marsala and then served with caramel, placed on the bottom of the mould, similarly to flan. Nowadays you can find hundreds of different garnishes and flavours, being probably the vanilla and fruits the most common one.
Recipe tips
Panna Cotta is really easy to make, as long as you follow few simple tips.
Don't add too much sugar or/ and gelatine! Panna cotta should be creamy and velvety, not chewy like gummy bears. In fact sugar helps the gelatine to make the dessert stiffer. So excessive sugar by itself might actually make the consistency of your panna cotta thick and unpleasant.
Don't heat the gelatine on the stove. Always dissolve it on a double boiler. This might save you lots of issues as its structure will decompose when overheated.
Don't freeze panna cotta: foods containing gelatine are not the best thing to freeze as their consistency afterwards might not be the same.
Serving suggestions
Traditionally panna cotta is prepared in moulds and inverted on a plate before served and garnished. This is probably the most elegant way of serving this dessert. How to remove it from the mould? The best way is to place the moulds shortly in hot water (2-3 minutes are enough), making sure no water is reaching the top. If necessary, run carefully a thin knife around the edges, before inverting the panna cotta on a plate.
The other serving option is to pour the panna cotta in glasses and to eat it with a spoon directly from them, together with the garnish.
Did you like this recipe? I will be glad to know your opinion about it. If you made it, please let us know in the comments how it went!
📖 Recipe
Print Recipe
Classic Panna Cotta
Ingredients
For the panna cotta:
2 cups/ 500

ml

heavy cream

(see notes)

2 tsp/ 6 g

unflavoured gelatine

or 2 leaves

1/3 cup / 80

ml

cold milk or water

1/3 cup/ 65 g

sugar

2

tsp

vanilla extract

or the seeds of half vanilla pod
For the fruit compote:
2 cups/ 300

g

berries

by choice, fresh or frozen

3

tbsp

sugar
Instructions
Panna Cotta:
Place the gelatine in a cup or a small bowl and cover it with the milk/ water. Leave it for 5 minutes to soften.

In the meantime heat the cream in a small saucepan together with the sugar, until it reaches the point of boiling. Remove it from heat and add the vanilla extract or the seeds from the pod and the softened gelatine.

Place the cream over another pan with some gently simmering water inside to make a double boiler. Mix continuously until the gelatine is all dissolved: make sure no traces of it remain.

Pour the panna cotta into ramequins, moulds or glasses. Let it cool until room temperature and then transfer to the fridge for at least 6 hours.

Serve with fruit compote.
Fruit compote:
In a small saucepan over medium heat combine berries and sugar. Stir the mixture until it starts simmering. Lower the heat and let simmer for 5 minutes (or 8-10, if using frozen fruit).

Remove from stove and let cool 5 minutes before serving.
Notes
Use cream with about 30% fat content. Alternatively if you prefer your panna cotta lighter, you can substitute half of the quantity with milk or use a lighter cream.
You can use any kind of fruit for the compote and you can also add fresh fruits for decoration. Adjust the sugar accordingly if the fruit is sweeter. Instead of berry compote you can garnish the panna cotta with chocolate or caramel sauce.
Food Blogger, Photographer and Cookbook Author. Founder of the sites Dani's Cookings and Taco & Tiramisu.