Leek Banitsa is a delicious phyllo pie made with cheese: the perfect vegetarian meal for the winter months! It is also one of the tastiest and most flavourful kinds of Bulgarian phyllo pastry pie. Check out how you can make it at home the easy way with this step-by-step recipe!
Jump to: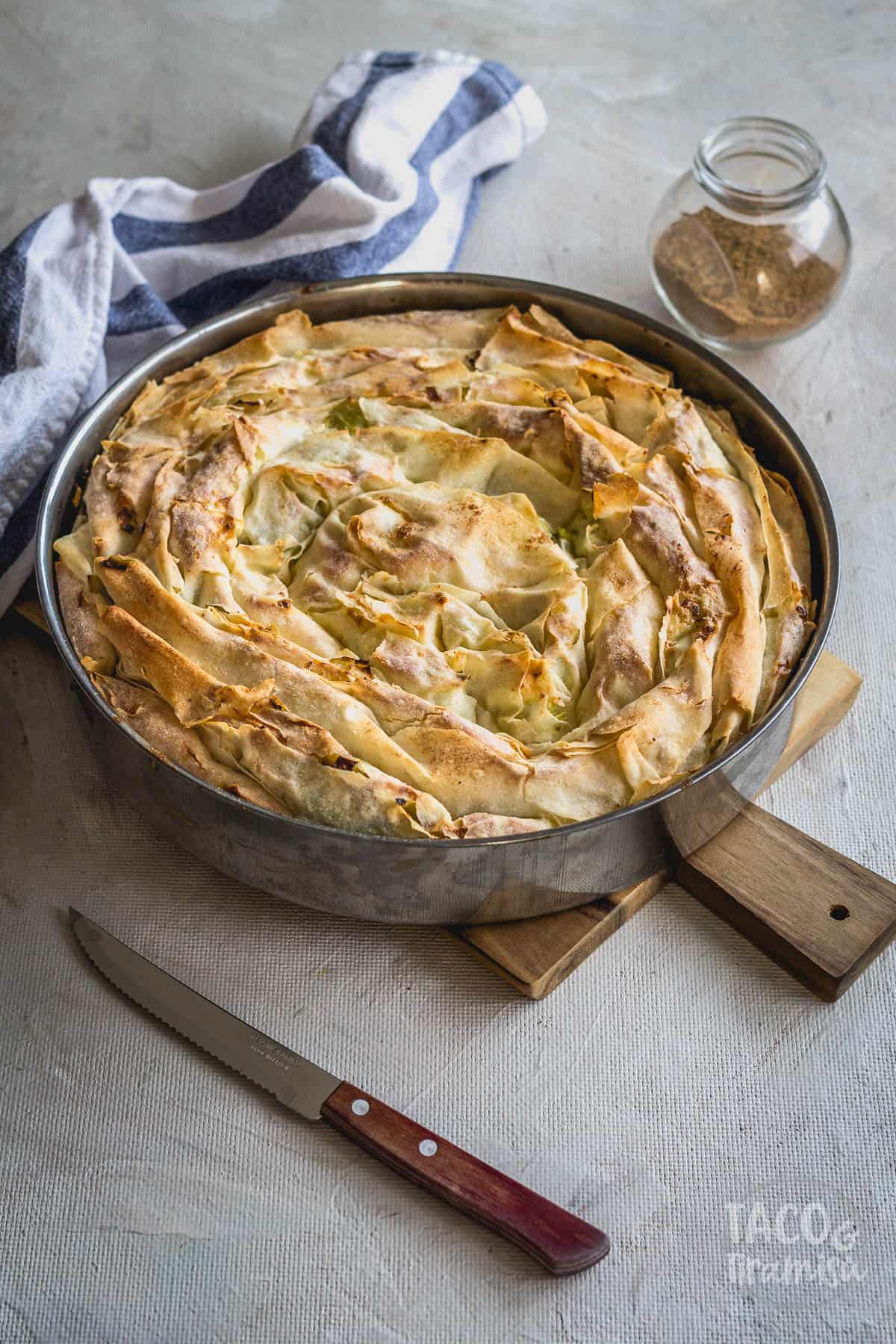 What is special about this recipe
The Leeks banitsa is a phyllo (or filo) pastry pie with cheese, eggs and leeks. It is traditional in Bulgaria but also popular in many Balkan countries. It is easy to make, perfect for breakfast, lunch or dinner.
Where is this recipe from
Banitsa is a very typical Bulgarian dish and naturally it can be prepared in different variations. The standard kind is made of phyllo dough stuffed with white cheese (sirene) and eggs. But there are also many vegetable variations such as: spinach, cabbage, dock plant, sorrel and of course, leeks. The last one is my family favourite as it is easy to prepare and has a wonderful flavour.
What ingredients you need
You need ingredients for standard banitsa + about 1 pound of leeks.
And which are the standard banitsa ingredients? Phyllo dough sheets, crumbled white cheese (such as feta, ricotta or cottage), melted butter, plain yogurt, eggs, salt and a bit of baking soda.
You will find the complete ingredient list below the post, in the recipe card.
Preparation summary
First you need to cook the chopped leeks in a skillet or frying pan until they soften.
The second step is to mix together the eggs, crumbled cheese and yogurt with some baking soda. Separately you need to melt the butter.
Assembling the banitsa is easy, as long as you consider that the cheese mixture and the cooked leeks need to be divided into as many parts as the number of phyllo sheets. 
Start by brushing one sheet with melted butter. Spread some cheese and leeks on top. Roll up the sheet and place it at the edge of a large round pan.
Continue the process, arranging consecutively the rolls like a snail shell.
At the end you should have some melted butter left to brush the whole banitsa on top, before baking it.
You will find more details below the post, in the recipe card.
Serving ideas
Banitsa is perfect for breakfast lunch and dinner: you can eat it at any time! Bulgarians like to eat it with plain yogurt or with airan: ya refreshing drink made of yogurt and water.
I personally like banitsa together with creamy soups or with Tarator in the summer. 
Did you like this recipe? Let me know in the comments what you think about it!
If you like the blog, subscribe to receive new recipes every week!
Follow Taco and Tiramisu on Instagram and Facebook to get fresh updates and authentic recipes from around the world!
Print Recipe
Leek Banitsa
Ingredients
1 lb/ 450 g

leeks

finely chopped

2

tbsp

olive oil

14 oz/ 400 g

o

crumbled cheese

feta, ricotta or cottage – around 2 cups

3/4 cup/ 200 g

plain yogurt

1/2 cup/ 120 g

butter

melted

1/2

tsp

baking soda

4

eggs

1 lb/ 450 g

phyllo pastry sheets

salt to taste

see notes
Instructions
Heat the olive oil in a large frying pan. Sauté the leeks in it until soft – about 5 minutes. Remove from heat and set aside.

In a large bowl combine crumbled cheese, eggs, yogurt and baking soda. Mix very well to combine.

Extend the phyllo sheets on the kitchen counter. Consider how many they are as you would need to divide the cheese mixture and the leeks between the sheets.

Preheat oven to 400ºF/ 200ºC.

Grease very well 11-12 inch/ 27-30 cm round pan. Alternatively you can use a 9 x 9 inch or similar size rectangular pan.

Use a kitchen brush to grease the to phyllo sheet. Spread some of the cheese mixture on top and sprinkle from the leeks. Roll up the sheet and place it around the edge of the pan. Don't worry if it is too soggy and breaks: as long as you have enough filling left for all the sheets, this is just fine.

Continue the same process with the rest of the sheets, arranging them one after another in the pan to form a spiral (or a snail shape). If it turns out that the pan is getting filled before the sheets are over, you can push the rolls closer one to another to make room for more in the middle.

When the banitsa is assembled, you should have some butter left: brush the whole banitsa on top with it.

Bake for 40-50 minutes or until the top is golden brown and the bottom looks golden as well. If the top starts getting dark too soon, place a sheet of aluminium foil or baking paper on top of the banitsa to allow it to bake well inside.

Before serving, let cool for 15 minutes, covered with a clean kitchen towel.
Notes
Keep leftovers for 2-3 days refrigerated in airtight containers. Reheat in the microwave or in the oven before serving.
Depending on the kind of cheese you use, salt might not be needed.
Check out also the following Bulgarian recipes:
Food Blogger, Photographer and Cookbook Author. Founder of the sites Dani's Cookings and Taco & Tiramisu.