Pasta Fredda is probably one of my favourite foods ever! A delicious and simple pasta salad with vegetables and mozzarella. An easy to make Italian dish with perfect flavours!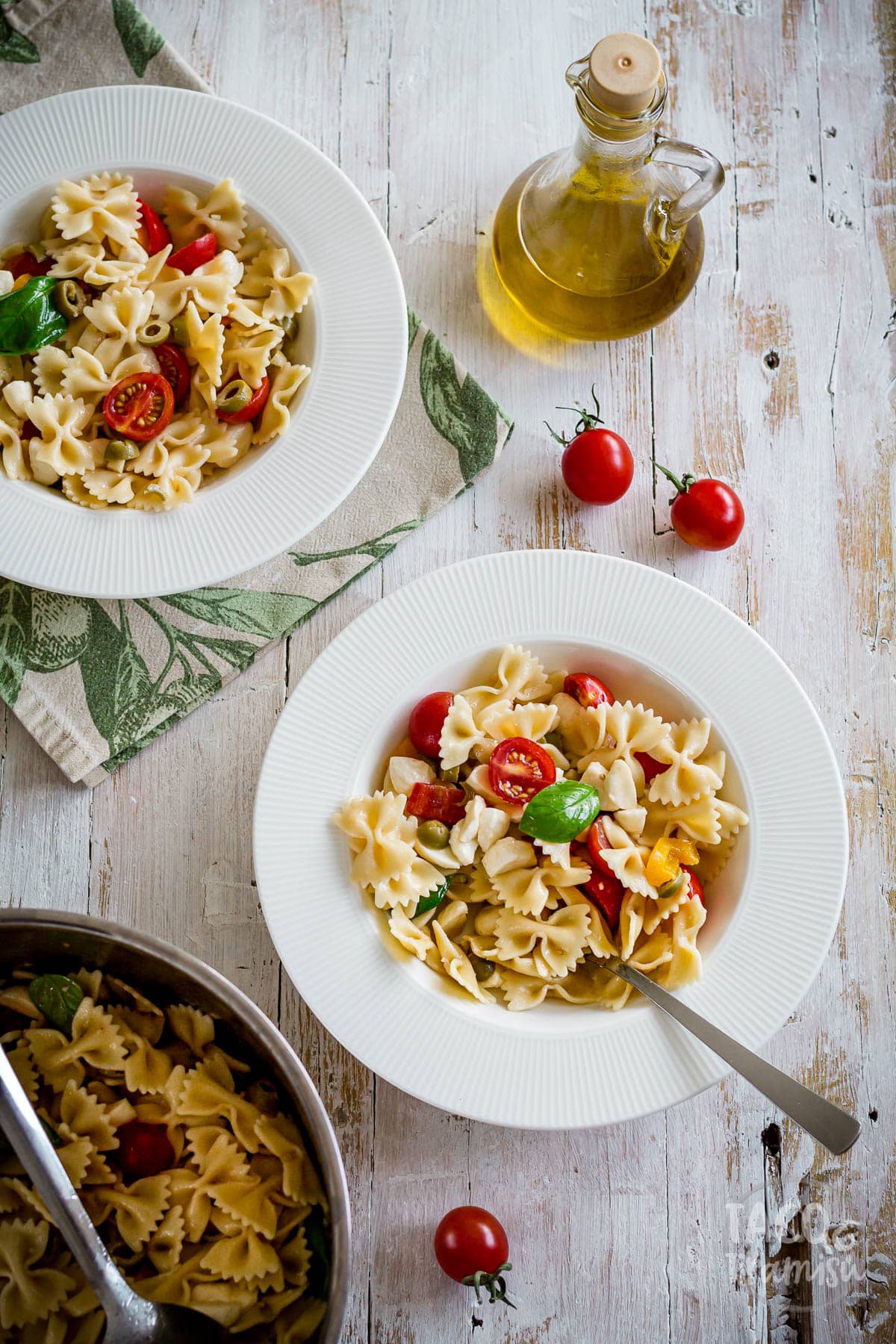 How do I know this recipe
This recipe is my better half's speciality. He knows it from his family and we often cook it at home. It is perfect for the summer but you can also make it in all year round, as long as you find fresh and firm cherry tomatoes.
What is special about this salad
This salad is fresh and very tasty. The tomatoes, marinated peppers, garlic and basil make a really delicious combination. It is a recipe worth trying and enjoying fully!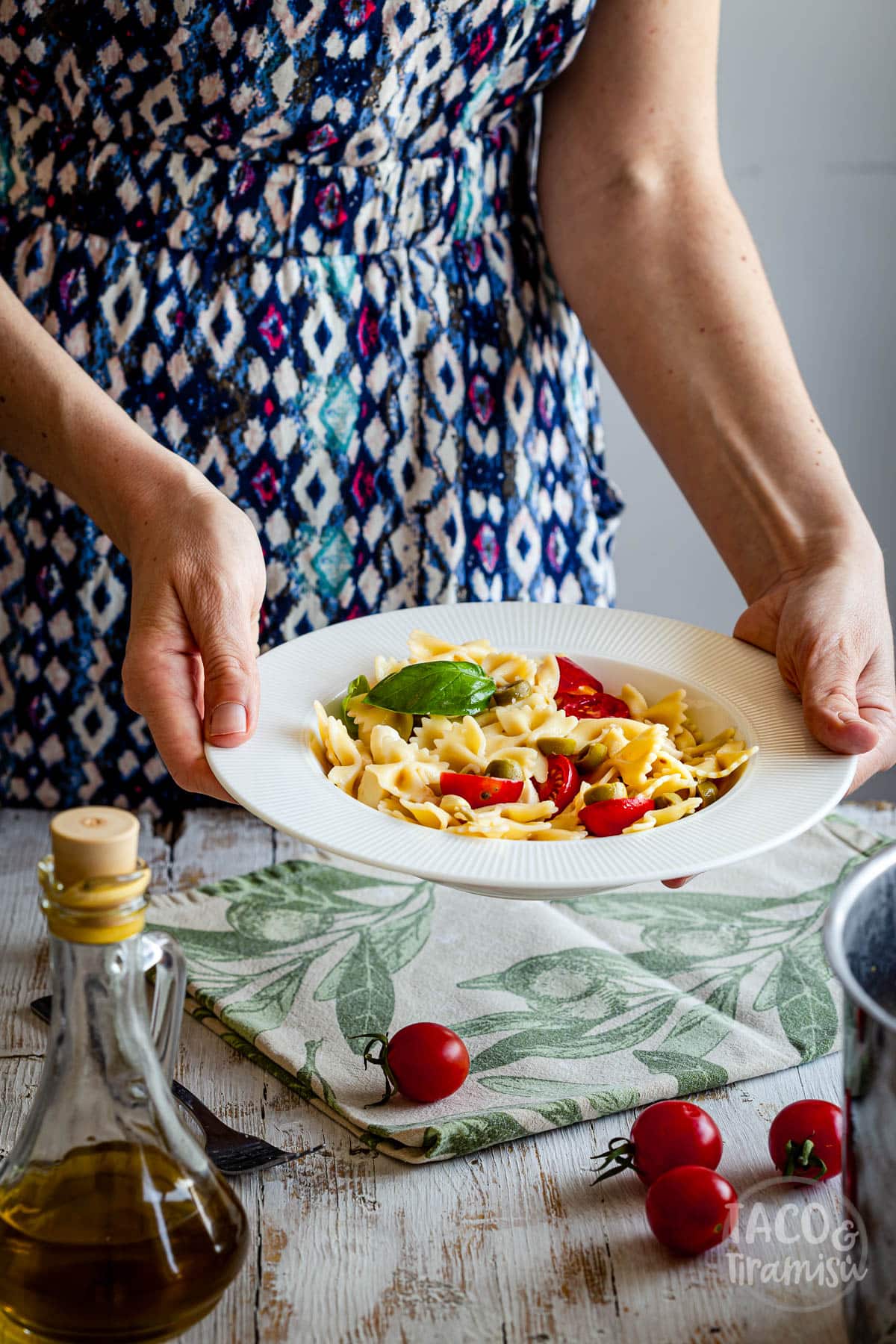 ? Recipe tips
This pasta salad is easy to make but you need to follow few important rules:
Pasta: It is best to use farfalle as this kind of pasta does not get overcooked easily and doesn't bloat after absorbing the liquids of the other ingredients. Of course you can also use other kinds like fusilli or penne but beware that you may end up with very soft pasta after you leave the leftovers in the fridge for a day or so.
Tomatoes: Use small and firm cherry tomatoes to avoid cutting them in many pieces. Ideally you want to just halve them, so they shouldn't be too large. They need to be firm so that they don't leak inside the pasta after being cut.
Garlic: Chop it in large chunks so that you can see them easily and discard them without risking to eat them.
Peppers: This recipe calls for Raw marinated peppers. They are very common in Italy but if you can't find them in your part of the world or not have time to make them yourself, you may skip them. In the summer you can marinate quickly one bell pepper by cooking it in vinegar, oil, salt and sugar (instructions in the recipe notes below).
Serving suggestions
Pasta Fredda is served in a plate without much garnishes aside. You don't need anything else as a garnish as it is so tasty and full of nice ingredients! Oh, well, maybe some cold Italian white wine like Pinot Grigio will go very well.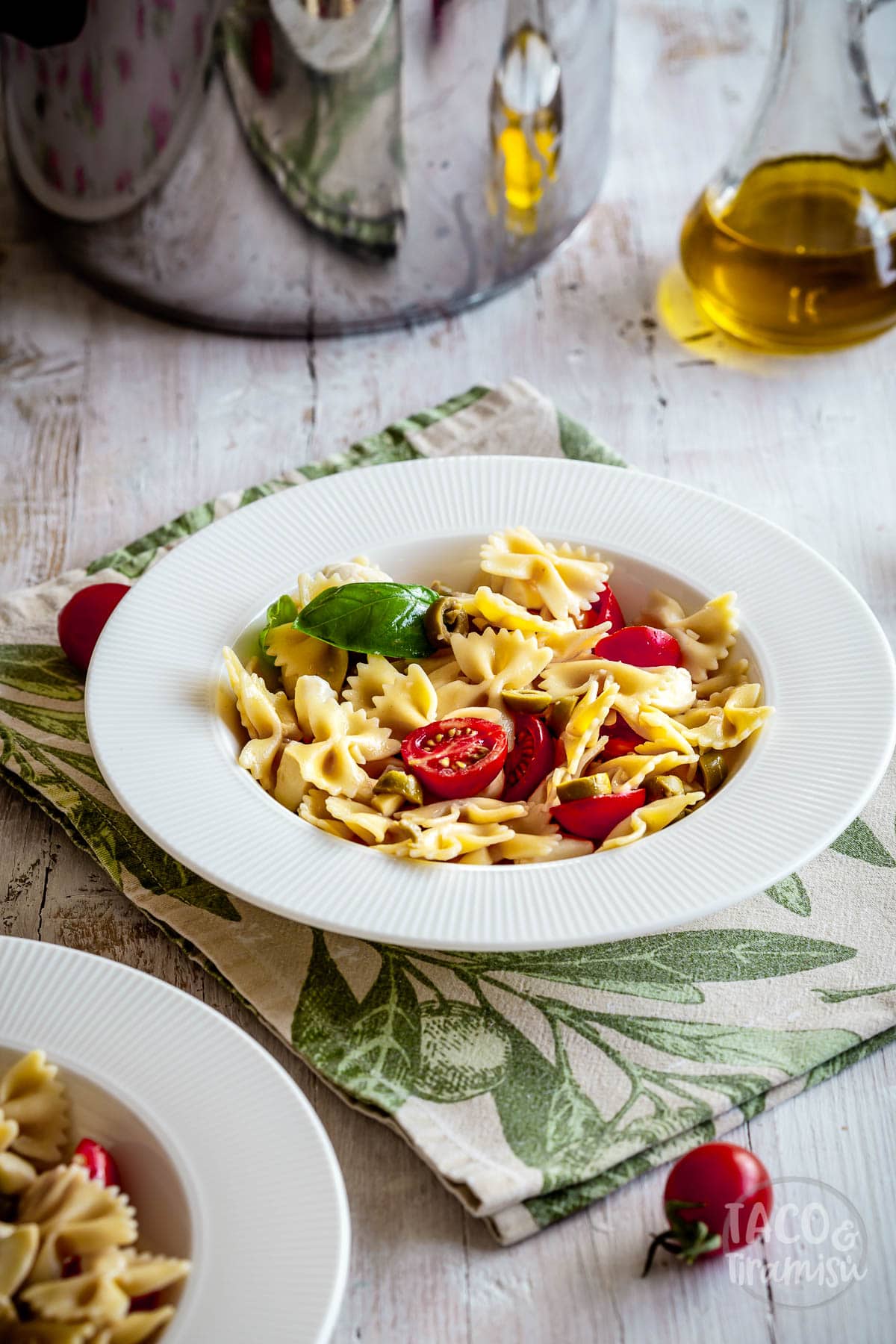 I am sure you would love this pasta salad, once you try it! There is nothing else like Pasta Fredda it's the ideal mediterranean dish!
Please let me know in the comments what you think about the recipe. If you made it, please share how it went!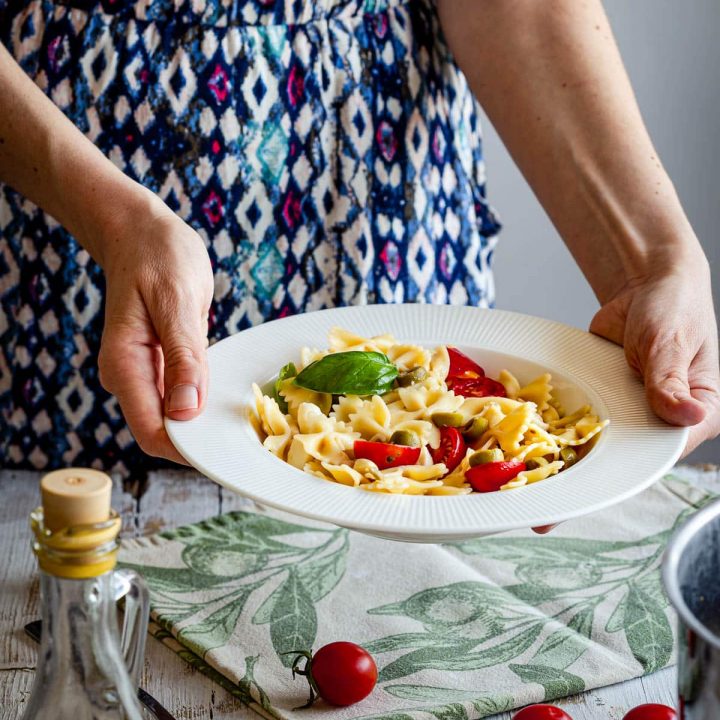 Print Recipe
Pasta Fredda (Classic Italian Pasta Salad)
Ingredients
1 pound/ 500 g

farfalle pasta

9 oz/ 250 g

cherry tomatoes

1 cup/ 180 g

green olives

pitted

11 oz/ 300 g

mozzarella pearls or 2 mozzarella balls

5

garlic cloves

½ cup/ 100 g

marinated peppers

optional (see notes)

3

tablespoon

olive oil

10-15

basil leaves
Instructions
Cook the pasta in a large pot filled with boiling salty water, until al dente (1-2 minutes before the time indicated on the package). Drain it in a colander and return to the same pot. Add immediately the olive oil to avoid the pasta from sticking one to another. Mix every 2-3 minutes, while preparing the ingredients, in order to make it cool down faster and also as an extra prevention from sticking.

Halve the cherry tomatoes. If they are too large you may cut them into quarters.

Cut the mozzarella pearls into quarters. If you are using large balls, dice them.

Slice each olive into 3-4 pieces, depending on its size.

Halve the garlic cloves. Wash and dry the basil leaves.

If using marinated peppers, chop them finely.

When the pasta is not hot any more, add all the prepared ingredients. Mix very well and cover with a lid. Refrigerate for at least 3-4 hours before eating.
Notes
Do not add the ingredients to the hot pasta! Make sure the pasta has cooled down for 15-20 minutes, mixing it every now and then. If you add the ingredients right away, they might get cooked which will ruin the dish.
To make quick marinated peppers: clean and slice lengthwise 1 red or yellow bell pepper. Heat ½ cup or 120 ml white vinegar, 1 tablespoon olive oil, 1 teaspoon salt and 1 teaspoon sugar in a small saucepan. When the mixture starts boiling, cook the pepper slices in it for 3-4 minutes until slightly softened. Remove from the liquid and let cool and dry. Chop into small pieces before adding to the pasta salad.
This pasta is even better on the next day. Store in the fridge for up to 3 days, covered.
Food Blogger, Photographer and Cookbook Author. Founder of the sites Dani's Cookings and Taco & Tiramisu.