A very easy and tasty meal that you can make at home in no time: Potato Stuffed Peppers are perfect for lunch, dinner or as a starter. This recipe is vegan but it goes well also as a side dish to meat or poultry.
Jump to:
Why is this recipe good
I never imagined how tasty are the Potato Stuffed Peppers before I tried them. They are very quick and easy to make: the total preparation and cooking time takes about 40 minutes. You just need few simple ingredients: potatoes, red sweet peppers, oil and spices. Easy to cook, delicious to eat!
What is the origin of this dish
I adapted this recipe from an old Bulgarian cookbook, issued in 1984. The book presents recipes from almost all Bulgarian towns. This particular one is attributed to a Northeastern village.
It is true that Bulgarians love stuffing peppers with all kind of ingredients but surely you can find similar peppers in many other nations: from other Balkan and Middle Eastern countries, to India and Italy.
Recipe tips
This recipe is very easy to make and the best is that you can prepare it according to your taste. Just follow these simple tips:
The original recipe indicated that potatoes should be grated. However I decided to dice mine very finely. I liked this method more because the stuffing does not look and feel like a puree. The potatoes became nicely browned during the initial cooking in the pan. If you prefer your potatoes more similar to puree, you can grate them.
I added some garlic powder to the recipe because I find that garlic gives a perfect kick to the potatoes. This ingredient was not part of the original recipe so you can skip it.
This recipe is all about spices. The Bulgarian way is with just black pepper savory: a spice similar to rosemary which is very popular here. For a more Italian feel you can add some oregano, salvia or even thyme. 
I recommend using olive oil for this recipe, not only because it is very healthy but also because it contributes with an excellent taste.
The Bulgarian peppers are not exactly the same as Bell peppers, as you can see on the photos. You can use any kind of large sweet peppers, so Bell peppers are perfect for this recipe.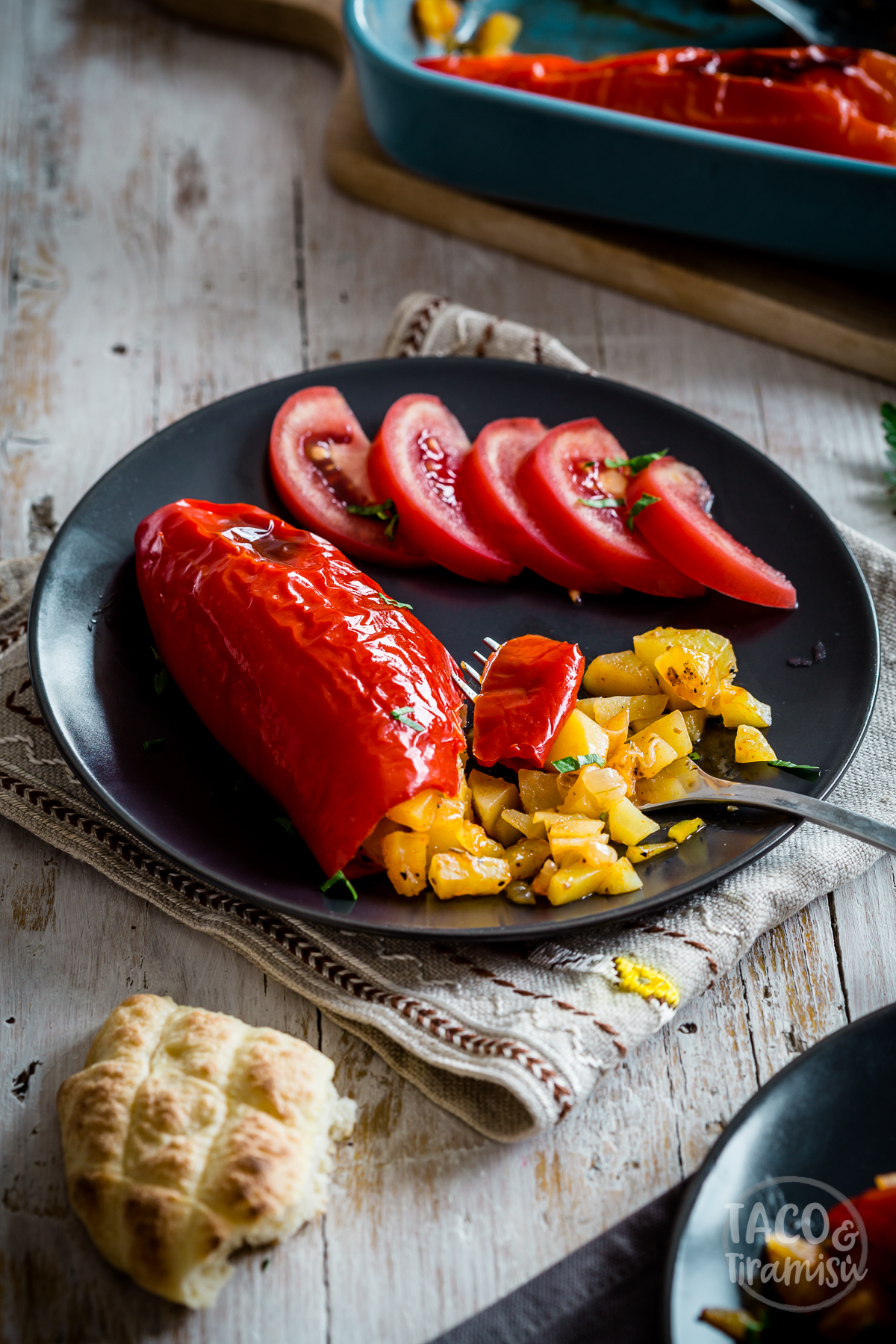 Serving suggestion
This is a perfect dish for lunch or dinner. You can have it with some fresh seasonal salad like for example Shopska salad. 
As this recipe is vegan, if you are a meat lover, you can have the Potato Stuffed Peppers as a side to your steak.
This recipe that is surely worth trying, being so simple and delicious. From all kinds of stuffed peppers that I have tried, this ones are so far my favourite!
📖 Recipe
Print Recipe
Potato Stuffed Peppers
Ingredients
10

medium red peppers

about 2 lbs (see notes)

1

lb

potatoes

2

onions

finely chopped

4

tbsp

olive oil

or other vegetable oil

1

tsp

black pepper

2

tsp

paprika

1

tsp

garlic powder

optional

1

tsp

dried savory

(see notes)

salt to taste
Instructions
Cut the tops of the peppers and clean the seeds. Peel the potatoes and chop them as finely as you can.

In a frying pan or skillet heat the olive oil and cook the onion, until translucent. Add the potatoes and cook for 5-6 minutes until soft. It is ok if the potatoes start browning a bit, just stir frequently to avoid burning.

Add paprika, garlic powder, black pepper, salt and any other spices you are using. Mix very well and remove from heat.

Stuff the peppers with the cooked potatoes, pressing well to make sure there are no hollow parts.

Arrange the peppers in a baking pan. If you have any leftover potatoes which didn't fit in the peppers, spoon them around in the pan.

Bake for about 20 minutes at 390°F/ 200°C or until the potatoes are completely soft and the peppers start getting brown on top.

Serve immediately.
Notes
Alternatively you can grate the potatoes instead of chopping them.
Bell peppers are perfect for this recipe but you can use any kind of large sweet peppers. Bulgarian peppers are slightly different shape-wise but they are very similar.
Instead of savory you can use oregano, salvia, thyme or rosemary.
Food Blogger, Photographer and Cookbook Author. Founder of the sites Dani's Cookings and Taco & Tiramisu.