Rice with bananas, eggs and tomato sauce: sounds a bit unusual but it is a very delicious dish and also easy to make! This recipe is perfect for breakfast, brunch or lunch. Read on to find out how to prepare it at home in just few simple steps!
Jump to: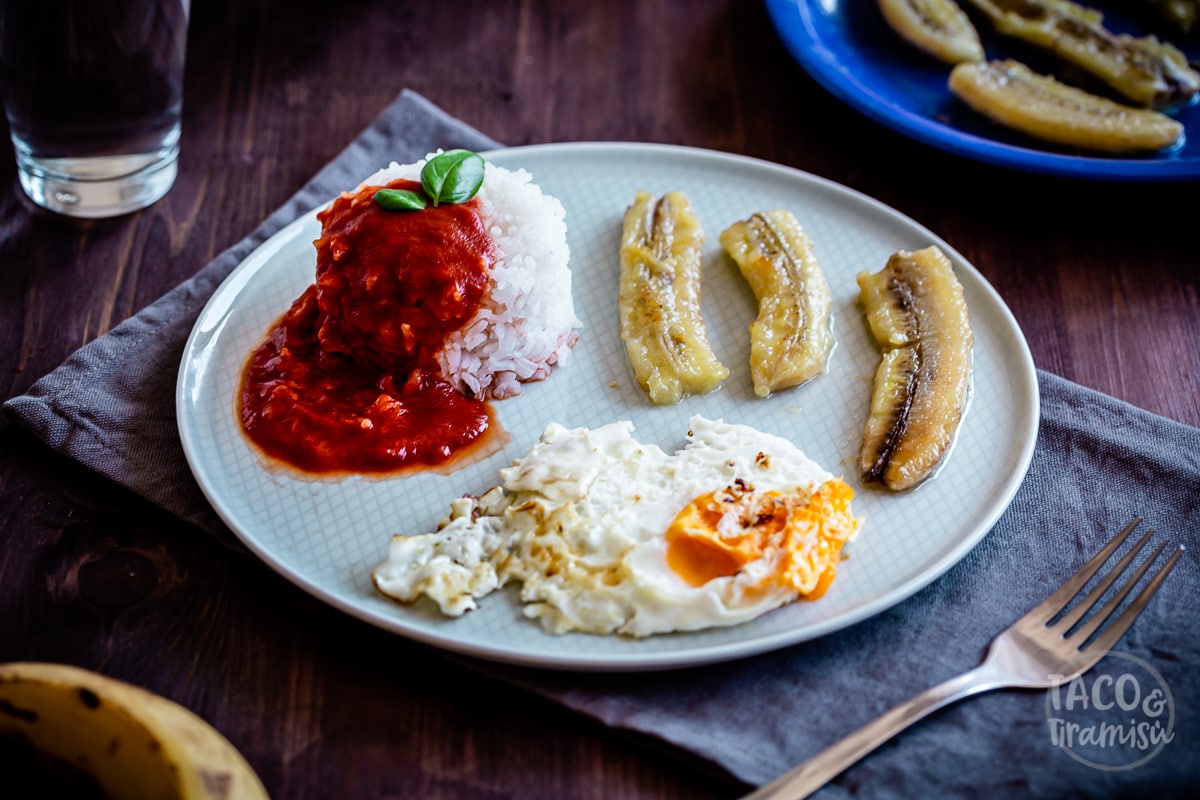 Where does this recipe come from
This recipe might sound Cuban, considering its name, but in fact it has been invented in Spain and more specifically on the Canary islands. Nowadays this dish is very popular in both countries, especially as a meal for kids.
I found the most detailed version of the recipe in the site Guiainfantil, including how to make the tomato sauce from scratch. I adapted it a bit and didn't make my sauce exactly from scratch but below you will find how to make the sauce too, in case you are interested.
The result was really great: better than I had expected! I understand now why this recipe is so popular!
🥣 Recipe tips
Here are few tips which will help you to make this dish as tasty and nice looking as possible:
Choose bananas that are not very ripe. The reason is that ripe bananas break easily and also stick easily to the pan. 
Use olive oil to fry the eggs and the bananas. It is very tasty and makes your dish healthier. You can also use butter.
Originally this recipe is garnished with fried tomato sauce made of raw tomatoes. However the easier and still tasty variation is to use ready tomato sauce or passata and cook it for few minutes with some spices. Below you will find also instructions for making your homemade tomato sauce.
How do you keep the leftovers
This recipe is best to eat hot and fresh. If you cook too much of the ingredients, you can store them separately in the fridge and reheat and assemble later. In any case it is better to cook as much as you are planning to eat at once.
I have been quite impressed with this recipe and I can't stop cooking it! The sweet bananas pair unexpectedly well with the egg, the tomato sauce and the spices. The dish is not too heavy and is full of flavours… No wonder so many people like it!
How do you find this recipe? I would be glad if you share your thoughts about it in the comments! If you made it, let me know how it went!
📖 Recipe
Print Recipe
Arroz a la Cubana
Ingredients
1 cup/ / 200 g

rice

(see notes)

4

eggs

4

tbsp

olive oil

1

tbsp

butter

optional

4

medium bananas

not very ripe

1

medium onion

finely chopped

2

garlic cloves

minced

2 cups/ 500 ml

tomato passata

dried oregano to taste

salt to taste
Instructions
In a saucepan or skillet heat 1 tbsp olive oil and saute the onion and garlic until translucent. Add the tomato sauce, salt and oregano. Cook for about 5 minutes or until the sauce thickens slightly. Remove from heat and set aside.

Wash the rice and cook it in a pan with boiling water until soft. Drain and add some salt and 1 tbsp butter (optional).

Halve the bananas lengthwise and fry them in 1-2 tbsp of olive oil. Place the cooked bananas in a plate and fry also the eggs in the same oil (add a bit more if necessary).

To assemble:

Use a cup or a ramequin to shape the rice. Place it on one side of the plate and top it with the tomato sauce. Place also one fried egg and one fried banana per portion.

Serve immediately.
Notes
You can use any type of rice. I prefer basmati since it has a lower arsenic content in comparison to other types and is also nice when boiled.
I like my egg yolks hard, that's why I fried them on both sides. This is not necessary if you like classic fried eggs with liquid yolk.
To make the tomato sauce from scratch you would need 2 pounds or 1 kg tomatoes. Peel the tomatoes (it is better if they are ripe) and chop them into small pieces. Cook the onion and garlic in the olive oil and add the tomatoes, salt oregano and 1 teaspoon sugar. Cook until thickened. Then use a blender or a food processor to puree everything until smooth.
The recipe was adapted from Guia Infantil
Food Blogger, Photographer and Cookbook Author. Founder of the sites Dani's Cookings and Taco & Tiramisu.