Banitsa is probably one of the symbols of Bulgarian cuisine. It is a delicious savoury pie made of phyllo (or filo) pastry sheets and sirene (white Bulgarian cheese). The original banitsa is prepared with homemade dough but this recipe is easy so literally everyone can make it.
Jump to: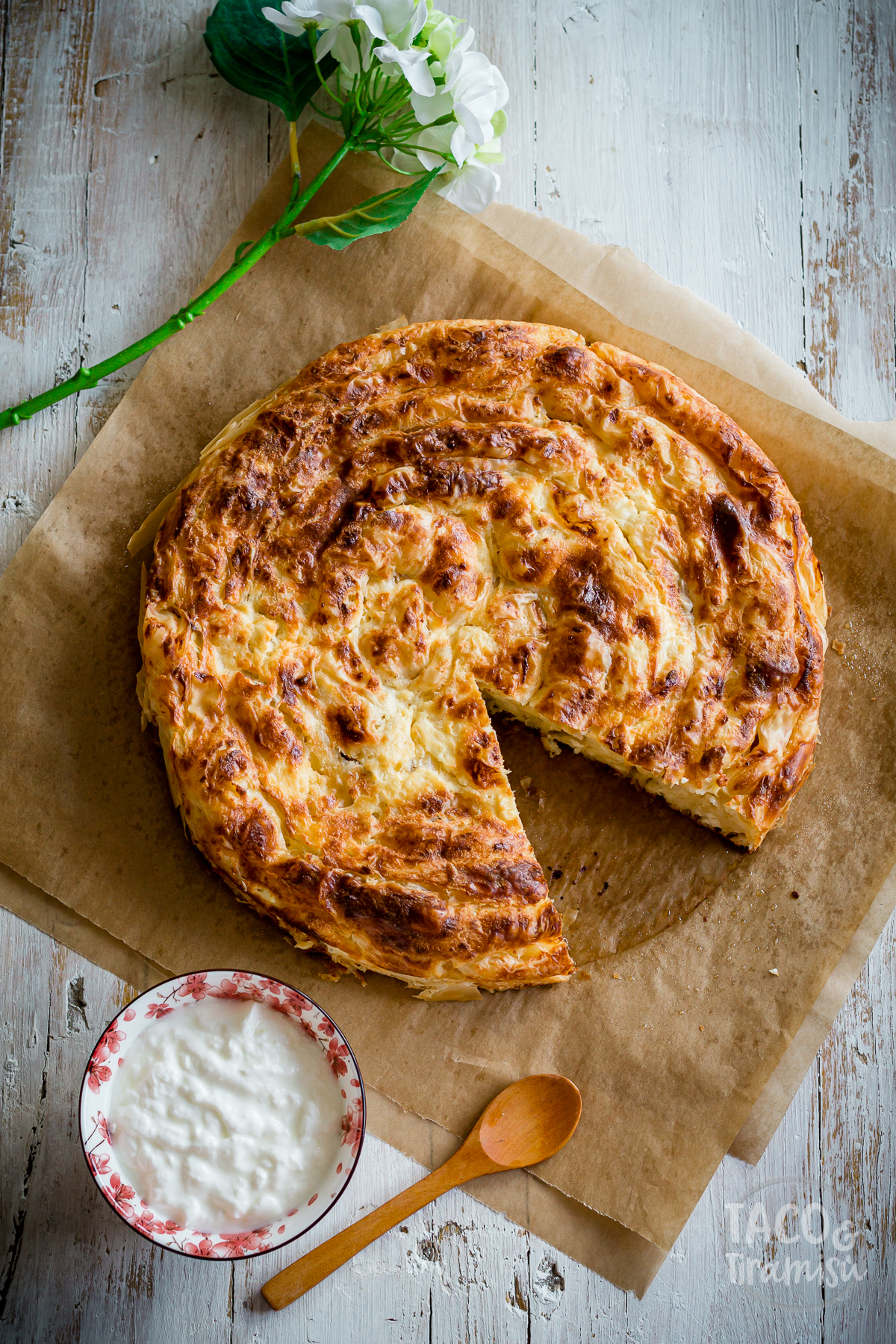 🥧 What is Banitsa
It is a kind of pie made of phyllo sheets. The sheets are prepared from very thinly rolled or stretched dough. Very often the dough does not contain any leaveners such as yeast or baking soda but instead each sheet is covered with butter or oil so after baking the effect becomes similar to puff pastry (but not the same as it is a different technique). Still it is not uncommon the homemade phyllo dough to contain yeast: that's how my grandma used to make her banitsa.
In fact Banitsa is not just Bulgarian thing. You can find similar pastry in other Balkan and Middle East countries but they have different names. You can find many kinds even just in Bulgaria: with cheese and eggs, with or without yogurt, with soda water, with green vegetables like spinach or leeks, even with meat or rice. There is also sweet banitsa with milk and sugar, with apples and the traditional Christmas one with pumpkin.
Apart from the different fillings, there are also different methods to make banitsa. In this particular recipe each sheet is rolled with filling and the rolls are arranged in a round pan resembling a snail shell. This is the classic way of making banitsa but there are more possibilities. The easiest method is to stack the sheets one on top of another with filling between them, similar to lasagne. There are also options for partial rolling and partial stacking, or the zelnik method where the sheets are rolled around a portion of green filling in the middle.
Where do I know this recipe from
I can make Banitsa in several different ways using store-bought phyllo pastry. This particular recipe I learned from my mom. It is great because it is easy, tasty, puffy and not excessively greasy as many others. In order to ensure maximum fluffiness, it requires just a little bit of baking soda in the filling.
Recipe tips
This recipe calls for Bulgarian cheese (sirene). I know that it is not available in most places in the world but it can be easily substituted. It is quite similar to feta so you can use feta cheese instead. Many years ago when I used to travel a lot, I made banitsa in different countries with locally available cheeses. It was quite successful with ricotta and cottage cheese as well.
Another Bulgarian ingredient for this recipe is the yogurt. If you can't find Bulgarian yogurt, you can use the greek one or sour cream. In this case you might need to add also some water in the filling if it becomes too thick. Just make sure the phyllo sheets are moistened very well before putting the banitsa in the oven. Otherwise the top sheets might get burned very quickly.
When you roll the phyllo sheets, don't worry if they break and the filling starts leaking. Even if you don't manage to roll them neatly, this is not an issue too. Your main concern should be to have the filling evenly distributed all around.
Serving suggestions
Usually Banitsa is served with yogurt. Some people like it for breakfast with boza: a fermented sweet wheat drink which is quite popular in Bulgaria. You can also serve Banitsa with a fresh salad for lunch or dinner.
No matter how you serve it, Banitsa is a dish which almost everyone likes. And with this easy recipe, even you can make it at home!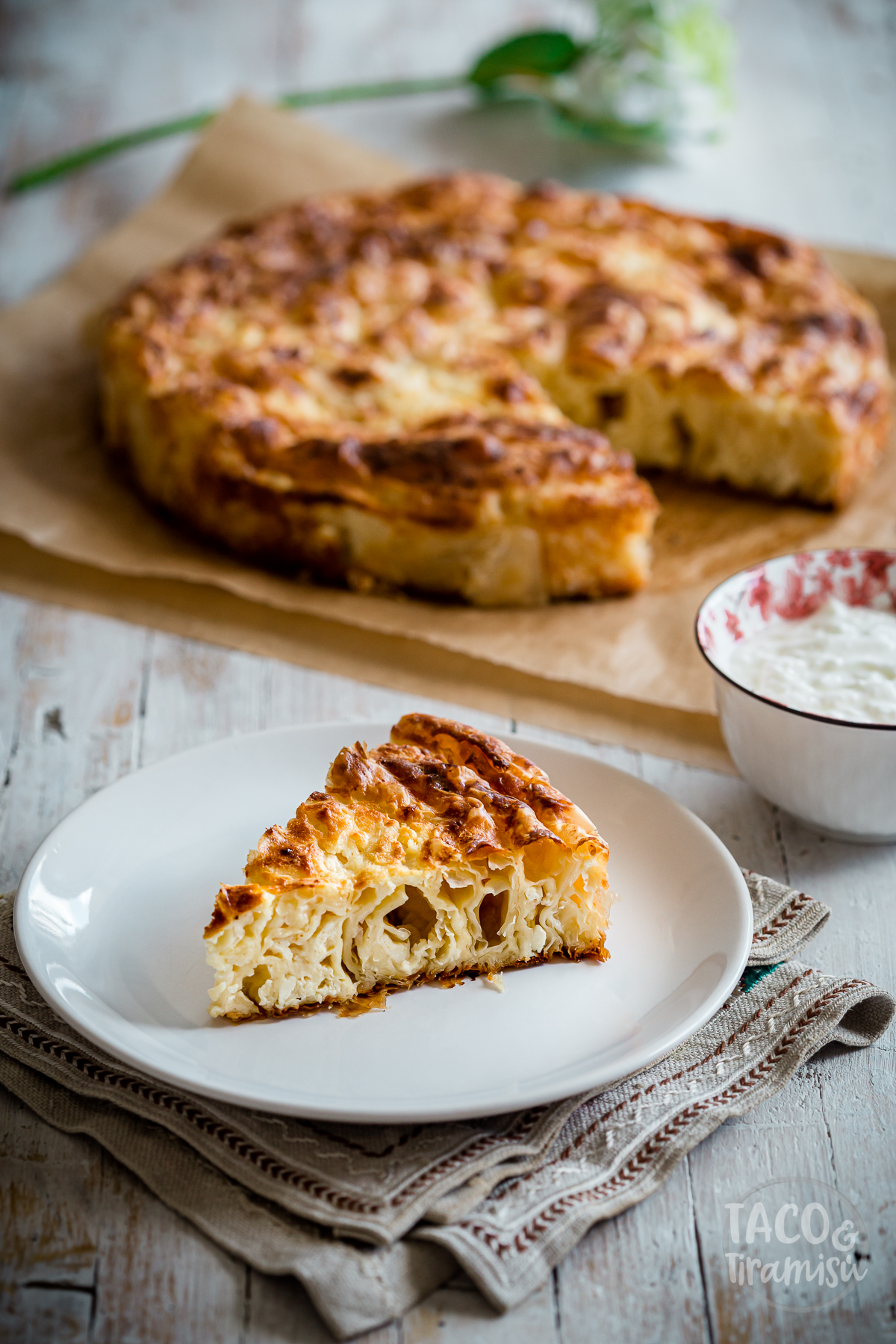 I would be really happy if you share your opinion about this recipe in the comments! If you made it, please let me know how it went!
Do you like our recipes? For more updates and information behind the scenes, please follow us on Instagram or Subscribe to our newsletter!
📖 Recipe
Print Recipe
Easy Homemade Banitsa
Ingredients
14 oz / /400 g

white crumbled cheese

(see notes)

1 3/4 cups/ 400 g

yogurt

1/3

teaspoon

baking soda

1/2 cup / 100 g

butter

melted

1 lb / 450 g

phyllo sheets

about 16

4

eggs
Instructions
Preheat oven to 380 degrees F/ 200 degrees C. Grease very well a 11-12 inch/ 28-30 cm round pan.

In a large bowl break the cheese into fine crumbs. If using ricotta or cottage cheese, just mix it.

Add the eggs and whisk very well, until combined. Add yogurt and baking soda and whisk until almost smooth (there will be cheese crumbs, which is just fine).

Extend the phyllo sheets on the kitchen counter or on the table. Brush the whole sheet with melted butter. Spread about 2-3 tbsp of the filling on top, all around the sheet. Start rolling it from the longer side into a thin roll. Place the roll inside the pan, around the edge. Continue the process, placing each new roll at the end of the previous so that they create a large roll similar to a snail shell. Make sure the rolls have filling evenly spread around and are not dry.

When all the pastry sheets are arranged in the pan, if you still have any filling and butter left, spread them on top of the banitsa.

Bake for about 35-40 minutes or until golden brown.

Cover the banitsa with clean kitchen towel for few minutes after it is removed from the oven.
Notes
You can use one of the following cheeses for this recipe: Bulgarian white cheese (sirene), feta, ricotta, cottage. If the cheese is not salty, you will need to add also 1-2 teaspoons of salt.
If you don't have a round pan, rectangular is fine as well. For pan size conversion use this calculator.
It is not a problem if the sheets are not evenly arranged in the pan, as long as they are all very well moistened by the filling. Make sure there are no dry parts as they might get burned early during the baking.
Food Blogger, Photographer and Cookbook Author. Founder of the sites Dani's Cookings and Taco & Tiramisu.