Meat lovers, this recipe is for you! A delicious roll made of minced meat and stuffed with eggs, carrots and pickles. This recipe is easy and very tasty. It is the perfect comfort meal great also for dinner parties.
Jump to:
What kind of dish is this
There are different kinds of minced meat rolls around the world but this particular recipe is very popular in Bulgaria. Originally it comes from Hungary. I am not sure if there is any difference between the two countries' versions nowadays, hence I am going to present a Bulgarian-style "Stephanie" roll.
Where does the name come from
According to some sources, the roll was called Stephanie after the Austro-Hungarian Princess Stéphanie (1864-1945). She was passionate about cuisine and apparently invented new meals which became popular in Hungary. Most probably the roll recipe was brought to Bulgaria by local gardeners who worked in Hungary. 
Recipe summary
This roll is very easy to make! First you need to boil in advance the eggs and the carrots. Then you have to prepare the minced meat mixture and extend it over baking paper or aluminium foil. Arrange the vegetables and boiled eggs on top and roll up the meat. Bake it and cover with some grated cheese 10 minutes before taking it out of the oven.
You can find the complete ingredient list and detailed instructions below the post, in the recipe card.
Recipe tips
Meat Roll "Stephanie" can be made with any minced meat but the most common way to make it is with equal proportions of beef and pork.
You can add different spices to the meat. I normally use just savory and parsley but some recipes call also for cumin.
The Bulgarian kashkaval is the cheese used in this recipe traditionally but it can be substituted with any yellow cheese such as cheddar, Emmental and other similar.
I really hope you like this meat roll! As usual, I would be very happy to receive your feedback. Let me know in the comments how it went, in case you made it!
Here are some more recipes with minced meat that you might like:
Did you like this recipe? Let me know in the comments what you think about it!
If you like the blog, subscribe to receive new recipes every week!
Follow Taco and Tiramisu on Instagram and Facebook to get fresh updates and authentic recipes from around the world!
📖 Recipe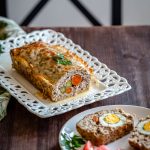 Print Recipe
Meat Roll "Stephanie"
Ingredients
2 lb/ 900 g

minced meat

see notes

3

eggs

1

onion

peeled and grated

3

small carrots

peeled

3-4

pickled cucumbers

small

1

tbsp

chopped parsley

2

tbsp

vegetable oil

2

tbsp

breadcrumbs

1 cup/ 80 g

grated cheese

see notes

1/2

tbsp

dried savory

1

tsp

cumin

optional

black pepper

optional

salt to taste
Instructions
Boil 2 eggs and the carrots for 10 minutes. Let them cool and peel the eggs.

In a bowl combine minced meat, the raw egg, grated onion, parsley, breadcrumbs and spices. Mix until all ingredients are combined very well.

Grease well with the oil a rectangular or a loaf pan.

Extend the meat on top of a sheet of parchment paper, creating a rectangular shape. Make sure the shape is as long as the pan. Place the boiled eggs, carrots and pickles in the middle of the meat so they create a line from top to bottom.

Lift the paper from both sides to roll up the meat so that it covers the eggs and the vegetables.

Place the roll in the greased pan. Bake for about 1 hour or until it starts becoming brown on top. Cover with the grated cheese and bake for another 10 minutes.

Serve with vegetables, green peas or roasted potatoes.
Notes
Meat: you can use pork or beef and the best is a mix of both.
Cheese: originally Bulgarian kashkaval is used for this recipe but it can be substituted by cheddar, Emmental or your preferred kind of yellow cheese.
Food Blogger, Photographer and Cookbook Author. Founder of the sites Dani's Cookings and Taco & Tiramisu.