One of the tastiest and lightest desserts that you can have in most traditional Bulgarian restaurants is Strained Yogurt with Honey. It is creamy, healthy, tasty and most importantly super easy to make with only three ingredients!
What is strained yogurt
Bulgarian strained yogurt resembles Greek yogurt but they are not exactly the same thing. Even though both are healthy and contain healthy bacterias, the Bulgarian one carries the unique Lactobacillus Bulgaricus. The normal consistency of this yogurt is not very thick as it contains a lot of water. However when it is strained (when the water is squeezed out of it) it resembles Greek yogurt.
During my childhood it was very common people to strain yogurt in 2-3 layers of cheesecloth tied on the kitchen faucet for the whole night. That was the easiest and effortless way to do it. Nowadays you can buy strained yogurt in almost every supermarket.
What is special about this recipe
This recipe is unbelievably easy, yet it is very delicious. You just need to layer the three ingredients in bowls or in glasses and that's all. It is ridiculously simple. One thing I love about this recipe is that even though everyone knows the tastes of the three ingredients separately, all together they create something incredibly nice and almost magically delicious. The textures combine together in a really nice way. Considering also that this is a healthy dessert, makes you want more and more from it.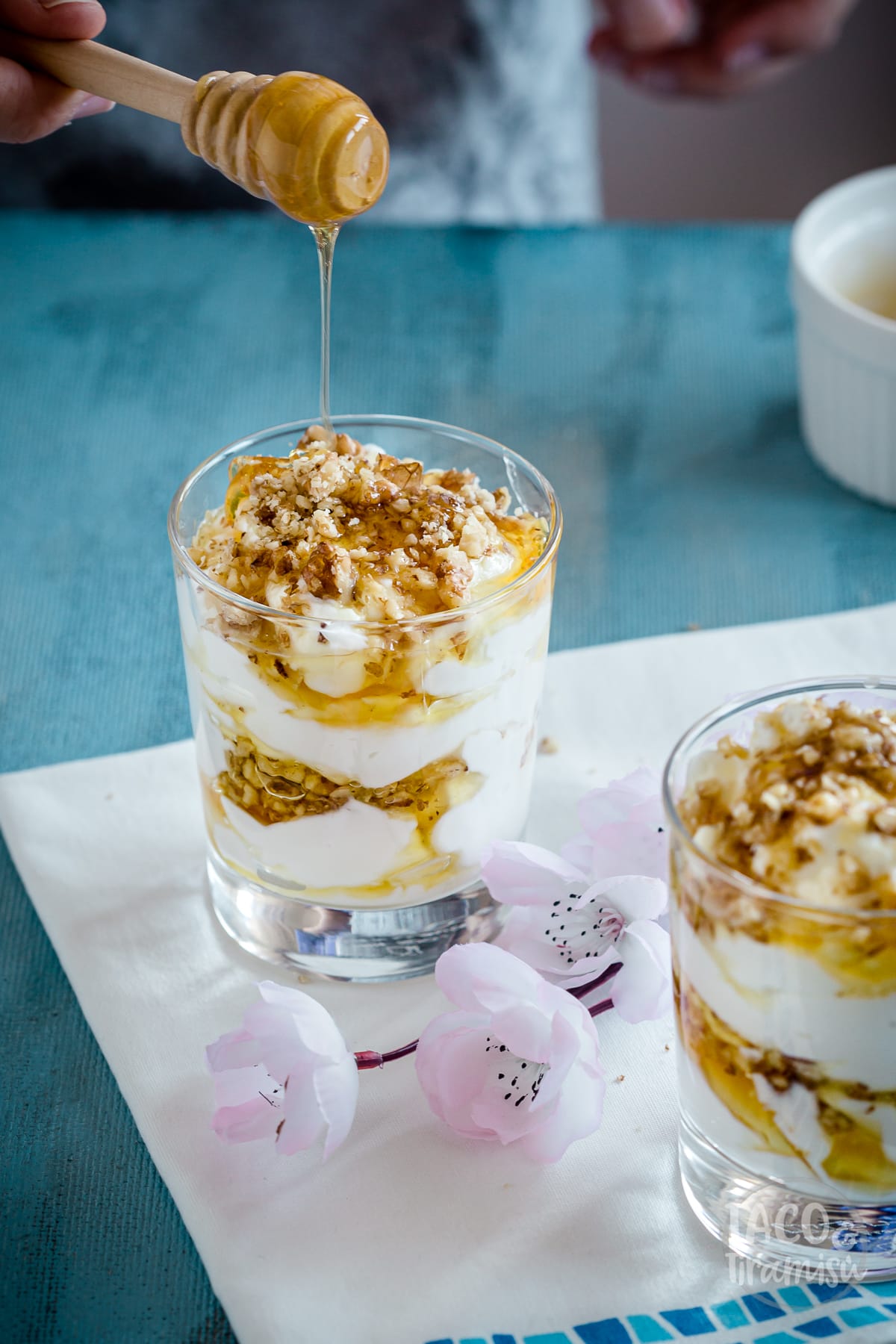 Recipe variations
In Bulgarian restaurants you may find different variations of this recipe. Instead of honey and walnuts, you can order the strained yogurt with some local blueberry or strawberry jam. The superior alternative is buffalo yogurt: if you ever find such, it is worth trying it as it is naturally thicker and creamier so the strained version just melts in your mouth.
Of course, if you can't find Bulgarian strained yogurt in your country, you can make the dessert with Greek yogurt as well. It will be still creamy, tasty and good for you!
Did you like this recipe? Please let us know what you think about it in the comments!
If you made it, don't hesitate to share how it went!
Print Recipe
Strained Yogurt with Honey
Delicious and healthy dessert made with only three ingredients and in just 15 minutes.
Ingredients
2 cups / / 500 g

strained yogurt

(see notes)

3 tbsp/ / 65 g

liquid raw honey

1/4 cup / 30 g

chopped walnuts
Instructions
Use a mortar and pestle to grind roughly the walnuts. This is not a mandatory step, you can add them just roughly chopped.

Distribute about half of the strained yogurt between three glasses or small bowls. Spoon half of the honey on top in each glass. Sprinkle half of the walnuts over the honey.

Repeat the process with one more layer of each ingredient, to fill the glasses.

Enjoy immediately or keep refrigerated.
Notes
The original recipe is with strained Bulgarian yogurt (from cow or buffalo milk) but you can use any yogurt with thick and creamy consistency (for example greek yogurt).
If you are lazy to make layers, you can just dump the yogurt in bowls and top it with the honey and walnuts. If the yogurt is thick enough, you can even use a scoop to serve it like ice cream.
Alternatively instead of honey and walnuts you can use blueberry jam or any other jam that you like. This is a different dessert but it is also popular in Bulgaria.
Food Blogger, Photographer and Cookbook Author. Founder of the sites Dani's Cookings and Taco & Tiramisu.