Nice and refreshing, Tarator is one of the best summer soups you can have in the hot days. A typical Bulgarian dish, prepared everywhere around the country. It is really easy to make with common ingredients, so it's definitely a recipe worth trying.
Jump to:
What kind of recipe is this
Tarator is a cold soup made of yogurt, cucumbers and spices. It is similar to the greek appetizer tzatziki but has a much thinner consistency. It is usually served in a bowl as a soup but it is also popular in mugs as some people like to drink it. In Bulgaria you can even buy bottles with Tarator in the supermarkets.
How to make this cold soup
Making Tarator is very easy and in fact it can be prepared in several variations. As common as it is, different people make it in different ways. Some prefer the cucumbers peeled, others like them with the peel. Some people even grate the cucumbers, while for others this is absolutely unacceptable. Some add dill and garlic, others skip one or another. The consistency of the soup can vary as well, being 1: 1 the most common proportion of yogurt to water.
The recipe below is for a classic Tarator but you can also find the possible variations.
Recipe history
Different versions of this dish are popular around the Balkan and Middle East countries: in Greece there is tzatziki, made with strained greek yogurt (therefore much thicker). The Turkish tarator is called "cacik" and is similar to the Bulgarian but made without the water.
According to one Bulgarian dictionary from mid 20th century, the word "tarator" is from Persian origin. In fact the first versions of the soup in Bulgaria were made with water and vinegar instead of yogurt.
What ingredients you need
Probably the most important ingredient for Tarator is the yogurt. Bulgarian yogurt is used traditionally but any plain yogurt would work. Alternatively you can use Greek yogurt but you might need to add additional water to reach the consistency of a soup.
You will also need cucumbers. Try to find a kind that is seedless or simply remove the seeds: they won't be very pleasant in your soup.
As for the oil, I recommend olive oil as it is tasty and very healthy but almost any vegetable oil would work. Bulgarians use mostly sunflower oil which doesn't have a specific taste.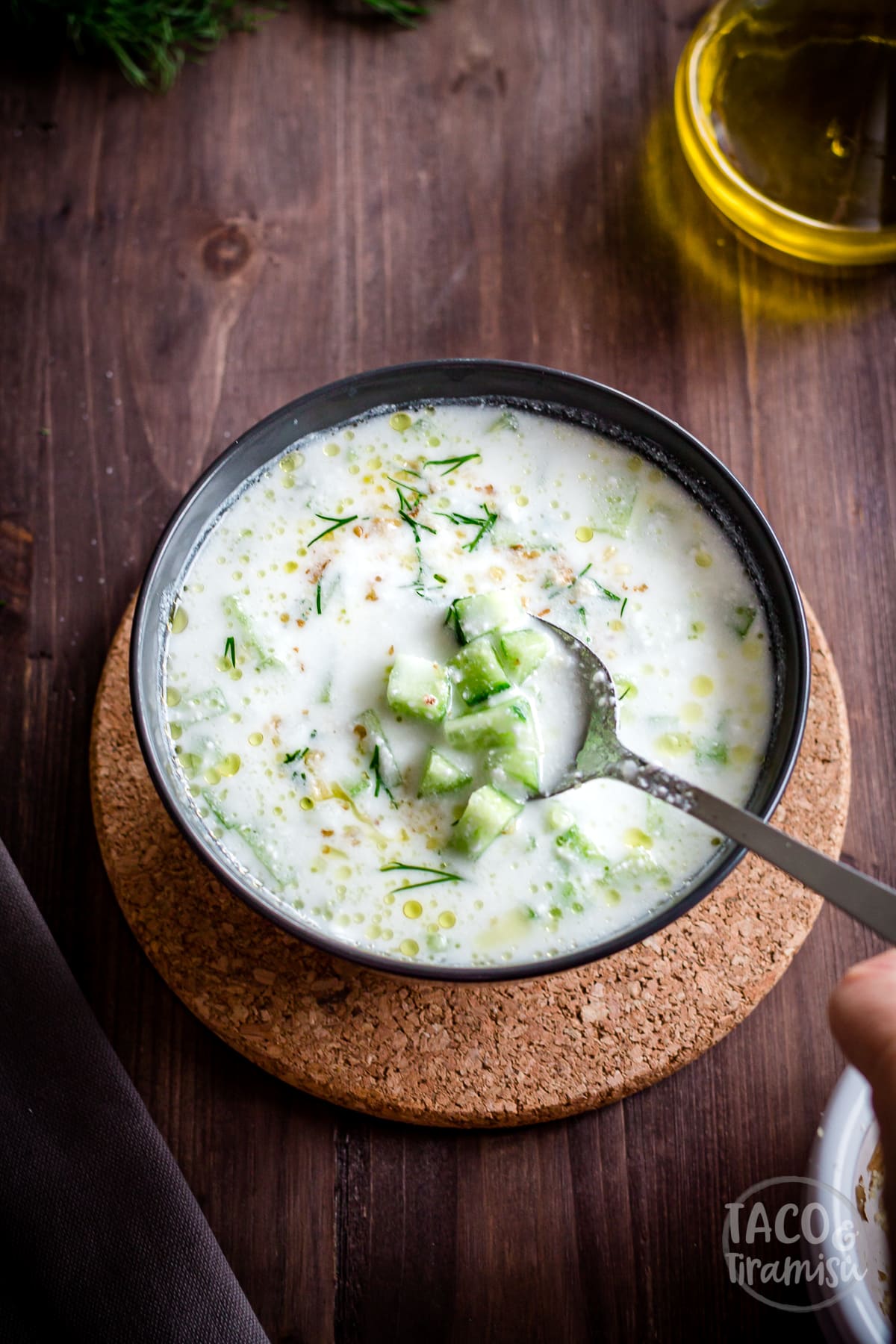 If you try this recipe, please let us in the comments below know how it went! If you liked it, please share it so more people can benefit from it!
Did you like this recipe? Here are few more cold meals that you might enjoy:
Print Recipe
Tarator
Easy and refreshing, Tarator is the perfect soup for the hot summer days!
Ingredients
1

large cucumber

seedless

2 cups / / 500 ml

plain yogurt

2 cups/ 500 ml

cold water

1

garlic clove

finely chopped

2

tablespoon

olive oil

see notes

1-2

tablespoon

fresh dill

chopped

1-2

tablespoon

walnuts

ground or chopped (optional)

salt to taste
Instructions
Peel the cucumbers (optionally) and chop them finely. Remove any seeds, if you find such.

In a large bowl combine yogurt and water. Mix very well with a fork or with a whisk to remove any lumps from the yogurt. Add oil and salt and mix again.

Add the cucumbers and the garlic to the yogurt mixture and stir.

Serve in bowls sprinkled with fresh dill and walnuts.
Notes
The quantity of the water is approximate and depends on how you like your soup – thinner or thicker. In case you use Greek yogurt, which is thicker than the Bulgarian, you may add some more water to achieve soup consistency.
You can also use sunflower oil (most common in Bulgaria) or other flavourless vegetable oil.
Some people like tarator with a lot of dill but it is acceptable to skip it if you don't like this spice.
Food Blogger, Photographer and Cookbook Author. Founder of the sites Dani's Cookings and Taco & Tiramisu.