It is not hard to make at home these tasty and flavourful pickled peppers! They are perfect to use in a variety of dishes like salads, sandwiches, bruschetta or even to eat them with just some bread. The recipe is very easy and these peppers are a must have in every pantry!
Jump to:
What kind of recipe is that
This is an Italian recipe which I know from my better half's mother. It is very common in Italy to marinate peppers in order to use them in Pasta or Rice salads. They are pickled in oil and vinegar so their taste is nicely sour with a hint of sweet and salty. The combination of oil and vinegar makes them tastier and preserves them better.
What ingredients you need
For this recipe you would need: olive oil, vinegar, sugar, salt, yellow and/ or red bell peppers. And I don't recommend you to substitute the olive oil with other vegetable oil: you are going to loose a big part of the nice taste and the nutrition qualities.
In fact the recipe doesn't call for any spices to enhance the taste of the peppers: with this marinade they are perfect just on their own taste!
Also consider using specifically Bell peppers for this recipe. They are very thick and crispy and will preserve their crispiness while being marinated. Other kinds of peppers which are thinner would easily become soggy and their skin would start falling apart: you don't want that.
Preparation tips
These are marinated raw peppers, they are not really cooked, even though the recipe involves some cooking. The boiling time is very short and does not have the goal to cook them, it is just to give them an initial flavour kick. The key of this recipe is to poach quickly the peppers in the marinade and then they have to dry out. Drying them would ensure that they will remain crispy while being marinated. That's also why you need to cool down the marinade before jarring the peppers with it. Don't worry: there is so much vinegar in the marinade that the peppers would not get spoiled, even though they are not hermetically closed.
How to store them
Store the marinated peppers in closed jars at a cool and dry place. As mentioned above, they are not hermetically closed but the sweet and sour marinade keeps them preserved.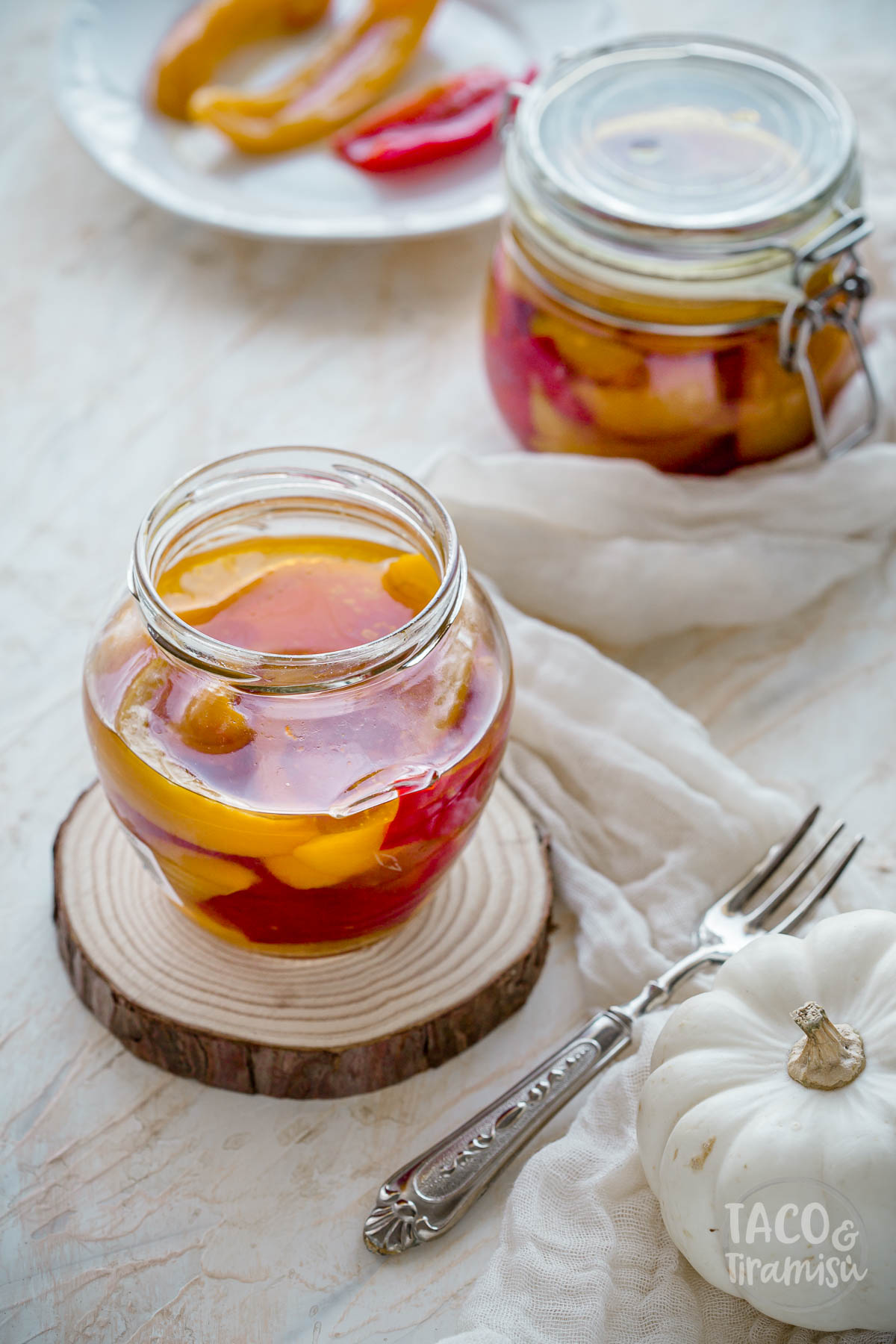 How long to keep them
We've kept such marinated peppers for 2 years at home. I don't really recommend keeping them so long, however: 6 months to 1 year is the average time.
Once you open the jars, store them it the fridge for 2-3 weeks.
Do you want to see some recipes using marinated raw bell peppers? Here are my favourites:
Did you like this recipe? Let me know in the comments what you think about it!
If you like the blog, subscribe to receive new recipes every week!
Follow Taco and Tiramisu on Instagram and Facebook to get fresh updates and authentic recipes from around the world!
📖 Recipe
Print Recipe
Marinated Peppers
Ingredients
2 kg/ 4 lbs.

bell peppers

, red and yellow

1 l/ 33 fl oz

white vinegar

from wine, 6-7% acidity

160 ml/ 2/3 cup

olive oil

extra virgin

90 g/1/3 cup

salt

65 g/ 1/3 cup

sugar
Instructions
Clean the peppers and cut them into wide strips: about 8-10 strips each.

In a large pot heat the vinegar, oil, salt and sugar and bring to simmer. Poach the peppers for 1-2 minutes in the liquid. Place them in 2-3 portions and remove them, before adding the next ones.

Arrange the poached peppers on top of paper towels extended on the kitchen counter or on large baking tins. Make sure they are not on top of each other.

Let the peppers cool and dry for 8 hours or overnight. In the meantime keep the marinade in the pan with a lid on top.

Arrange the peppers inside clean jars (mason jars or similar). Place on top toothpicks to push the peppers down. Pour marinade in each jar to cover the peppers. Close the jars tightly with lids.

Keep the marinated peppers in dry and cool place for 6-12 months. It is recommended to start consuming them in about a month after they have been closed in the jars.
Notes
Use red, yellow or a mix of both bell peppers. The green ones would not look pretty when marinated.
Poaching the peppers should be very short, just to get the initial flavour of the marinade. Don't boil them long as they need to remain raw. That is also a reason why you should poach them in portions: if the pot is overcrowded, the peppers might not get poached evenly.
Once you open a jar, keep it in the fridge for 3-4 weeks.
If the oil doesn't cover the peppers completely in the jar, the top ones might become dark. Remove such pieces before consuming the rest.
In order for this recipe to work, you need wine vinegar with high acidity, 6-7%. Apple vinegar might not be a good idea.
Food Blogger, Photographer and Cookbook Author. Founder of the sites Dani's Cookings and Taco & Tiramisu.